Curing concrete
Why should concrete be cured?
Curing is essential to the achievement of good quality concrete. It is a simple process, frequently overlooked to the detriment of long-term durability and the wear resistance of the slab.
The purpose of curing is to ensure that the concrete does not dry out prematurely, but retains moisture so that it will build up strength and gain durability and resistance to wear. The concrete should be kept continuously damp for at least 7 days to achieve satisfactory curing. The easiest method is to cover the concrete with plastic sheeting immediately after finishing.
Alternatively, a commercially produced curing compound may be sprayed, brushed or rolled onto the surface. If using a curing compound, read the manufacturer's specifications and use as directed.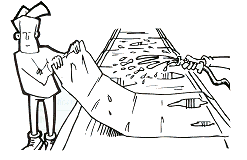 REMEMBER Curing is essential!
Call us
Call VM Minimix now on 03 9460 4717 for expert advice and prompt, friendly and professional delivery of your pre-mixed concrete.